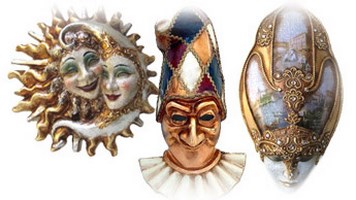 Wall Decor Venetian Masks
This is a fascinating group of masks – particularly designed to be wall mounted and displayed. Distinctly Venetian and highly stylized, these are great for a unique gift – for yourself or anyone else for that matter. Looking for a real stand out for a wedding gift or other special life event? There is no one who wouldn't be delighted – and proud – to display a piece of original Italian artwork. A wall decor mask will be an instant conversation piece – and they have wide appeal in a variety of designs – there is literally something for every taste and design preference.
Sort By:
Min price:
Max price:
Items per page:
Height: 21.00" Width: 12.00"

Height: 21.00" Width: 13.00"

Height: 21.00" Width: 12.00"
Sort By:
Min price:
Max price:
Items per page: